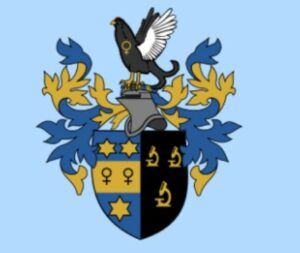 Brass and Glass has a new snazzy website with a new snazzy logo. I'm very pleased with it, I think it looks a bit smarter and it feels more personalized and special now.
My husband is the bearer of a coat of arms (technically his father is the current bearer, but let's not split hairs). The Thoyts coat of arms consists of gold stars (mullets) on an azure background. In heraldry, the stars originally represented a knight's spurs although it isn't always the case. The symbol for the planet Venus is also present and it is unclear what meaning this has, if indeed it has any meaning at all. The meanings of heraldic symbols can be bad puns, their meanings can be lost in time or sometimes they are only there because they look good. The crest is a heath-cock (grouse) rising with the Venus symbol on its chest.
Through marriage the Thoyts family combined their coat of arms with that of the Burfoot family, and I have loosely based my logo on this. My family does not have a coat of arms because I come from a long line of non-conformist peasants, so for my contribution to the new coat of arms I substituted the Burfoot stars for microscopes while keeping the black background. I'm sure the Burfoots would be horrified.
Click on the thumbnails below to see the progression of the Coat of Arms